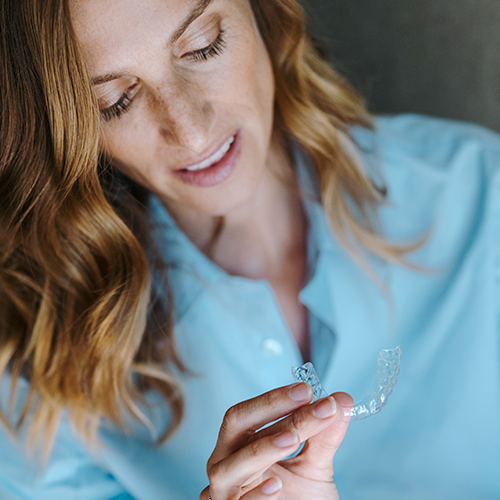 11 Apr

The Price of Clear Aligners: the Good, the Bad, and the Cheap
Everything you need to know about affording that perfect smile.
Clear aligner treatment is a trend that's here to stay, that much is certain. But the price you'll pay? That's less certain.
Between direct-to-consumer online aligner companies and professional in-office treatments, the cost of clear aligner therapy ranges from just $1,800 to well over $8,000.
Why such a vast difference?
How can you afford clear aligners? And are cheap clear aligners a good way to save money on your teeth straightening treatment?
Why so expensive?
Clear aligners are popular metal-free alternatives to traditional braces. Treatment involves wearing an upper and a lower retainer-like tray until your teeth move to fit the positions of the current set of trays. After that, it's time to move on to a new set.
Aligners are more discreet and comfortable than braces. The fact that they're removable also has major appeal.
But while clear aligners have many perks, their cost can be a deterrent. Aligner trays are made from thin pieces of clear thermoplastic resin, a fairly inexpensive material which is like a mix of rubber and plastic. So why does a course of treatment in these flexible little trays cost so much? The reasons might not be as clear as the aligners themselves.
It's actually what goes on behind the scenes that determines the cost of your care.
Clear aligners aren't just fitted to your teeth; they're designed to press on specific points of specific teeth in order to move them. It takes time, high-tech treatment planning software, and extensive expertise to safely move teeth into healthy alignment with clear aligners.
Your aligners need to be designed by a provider who knows:
Which teeth need to move
How far they have to move
How fast they can safely move
And, in which direction they need to move.
Moving teeth is a complex project, and it's definitely not one you should attempt on your own. When you get aligners, you're paying for more than a few pieces of plastic—you're paying for the skills and knowledge that go into designing safe and effective orthodontic appliances.
Shopping for a clear aligner
We've established why clear aligners can be expensive. But what accounts for the enormous variation in cost? There are two primary factors.
In-office vs. At-home care
When you get a quote from a dentist or an orthodontist for clear aligner treatment, that price is set by the individual provider. And their prices are not arbitrary; they're determined by other factors like:
Where the practice is located
The operating costs of the practice
The skill and experience level of the provider
The brand of clear aligner the provider is offering
Most importantly, getting your clear aligners in-person from a local dental professional means paying for personalised care and one-on-one time with the provider.
Going with at-home aligners is cheaper because it cuts out the middleman, the dentist or orthodontist who would normally provide your care.
Treatment time
Time also affects the cost of your clear aligner treatment. The longer your teeth will take to straighten out, the more care you will need, and the more expensive your treatment will be. You'll end up with varying treatment time estimates, depending on who you ask. If you have a consultation with five different dentists and orthodontists, you'll probably have five different treatment quotes. Each professional will give you an estimate based upon their own experience with similar cases they've already completed.
What about cheap clear aligners?
When choosing a clear aligner, remember this: cheaper is not always better.
It's easy to think that because an aligner is just a thin piece of plastic, it shouldn't matter where you get it.
But when it comes to moving your teeth, you really do get what you pay for. If a higher price tag means that there's a skilled orthodontist overseeing your care each step of the way, then it's safe to assume that the opposite is true: cheap orthodontic treatment means less personalised care.
The hands-off, at-home approach can work for some individuals with healthy mouths and very mild tooth alignment issues. That isn't the case for everyone, however, and this method still has some inherent dangers.
A lack of adequate supervision during cheap at-home orthodontic treatment can increase your risk of complications such as:
A misaligned bite, despite having straight individual teeth
● Developing tooth decay over the course of your treatment
● Damage to tooth roots
● Loosened teeth
Here's another important point to consider: the most affordable clear aligner therapy might not include everything you need to get the results you want.
You might need attachments, elastic bands, regular braces, or even surgery to bring all of your teeth into healthy alignment. These are not treatments that a at-home clear aligner company can provide you with.
So while seeing a dentist or orthodontist for your treatment could be the more expensive option, it's probably the best option for the health of your smile.
And getting a clear aligner directly from a local provider may be more affordable than you think.
How to afford quality clear aligner treatment
Safe, effective, and convenient clear aligner treatment can definitely be affordable. There are a few ways to pay for clear aligners without breaking the bank.
Dental insurance
While some dental benefit plans cover treatment with DIY clear aligners, most coverage providers prefer to pay towards treatment provided in-person by a qualified professional. If you have orthodontic coverage, you can save money on your clear aligner treatment when you visit a local dentist or orthodontist.
In-office financial aid and payment plans
Like most folks, you probably aren't sitting on a pile of money that you can tap into anytime you need expensive dental treatment. Your local dentist and orthodontist understand your situation and may be able to offer you a flexible in-house payment plan.
Do this before paying for a straighter smile
There are plenty of clear aligner treatment options to choose from, but they aren't all created equal.
So if you're searching for the right clear aligner for you, the most important thing you can do is this: get a full dental exam to find out how healthy your teeth and gums are before starting clear aligner treatment. You might even schedule a couple of orthodontic consultations (which are often free, by the way) to get treatment recommendations and cost estimates. Find a Reveal provider near you. 
Just don't let the cost dictate the quality of your treatment. Instead, let your dental health needs guide your choice of clear aligner.
Once you know what your smile needs to look and feel its very best, you'll be able to make a smart financial decision about your clear aligner treatment.
© 2021 Henry Schein Orthodontics